Neal's 40th
The best friend of Neal Metha is Rajesh Shah. Rajesh called This Is Your Laugh to ask that we arrange a 40th birthday 'Trial'.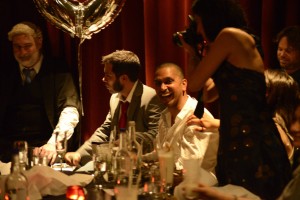 This was to take place in a gorgeous Indian restaurant on Wardour Street, London. After speaking with the restaurant manager and confirming the schedule of the meal and other activities, we co-ordinated with Neal's wife and Rajesh to organise a surprise show for the birthday boy.
Because it was going to be a surprise, extra care and attention was required. We had to know more about the man, to know he would be 'up for it'. And if there was any doubt that he wouldn't be, to be prepared for that and have a solution.
What we did do was ensure Rajesh and another friend would be put on trial first. It would help reassure Neal that the experience would be fun, while still being a surprise.