MACE Group
After Shane Hughes, the HSE and wellness risk manager at MACE Group construction firm, saw a This Is Your Trial show at Dirty Dicks in London, he sent an email to ask if we might be able to design a show for his work colleagues.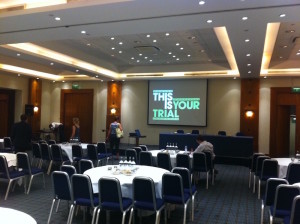 He had been running a Health and Safety programme over the previous 12 months with a large team of construction managers working for MACE Group. The idea was to consolidate all of their learning via a summer event laced with fun and booze!
We met up on site with Willie Shaw, the Operations Manager and I discovered more detail about the team and the training programme. My own knowledge and experience of learning design and writing courses helped make a connection with Shane and then we threw some comedy into the mix.
I lined up a team of Mark Dolan, Barry Ferns, John Ryan and magician, Stephen Barry. We decided to set up five of the construction managers as 'witnesses' for a Trial where the training programme itself was in the dock.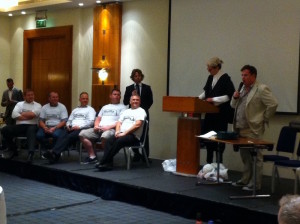 Mark is an easy choice, an extremely versatile comedian who was very likely to be known by the audience for his TV appearances. Barry is an excellent comedian and MC, so good at working and tough audience. John Ryan is a master of dealing with tough subjects with his experience of running comedy shows for the Forces and others with mental health charities. Stephen was brought in to do a specific stunt that was written into the show.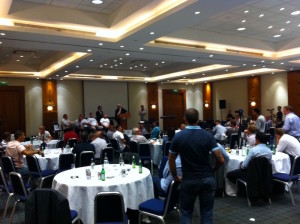 The show was a huge success. The comedy ensured the overall participation and engagement of a group that was known by the company as difficult to retain their attention. They basically loved it, doing something different and fun, whilst having a specific Health and Safety learning outcome smuggled into the laughter!