Krystyna's wedding (and 60th)
In 2012, I was asked to sort something out for a very special occasion, taking place in November, a combined wedding and 60th birthday party. Not only that, it was to take place in Cornwall!
Now, what to do? The 'client', Krystyna, was the bride and the birthday girl. She said she wanted something personal, something that would celebrate herself and her husband and her family, who were all to attend and be involved. Most importantly, she wanted it to be a riotous laugh. She had already arranged a venue, planned the music and provided video screens if we could use them.
I was told some of her family couldn't make it but wanted to be involved.
After getting some phone numbers, I called around the family, discovered more about both Krystyna and Pete (her groom) and started to develop ideas for how we might tell their story.
We decided the show would be like a This Is Your Life type show, with a comedian playing the Eamonn Andrews role. I found Teresa Holcomb lived nearby. She is incredible. A seasoned comic from San Francisco currently living in Cornwall with experience of doing shows with the greats such as Robin Williams and Bill Hicks. What luck.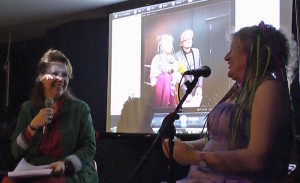 After long chats with relatives, I knew Krystyna's own life was filled with fun and this would be easy to apply comedy to. Everyone was up for it. The show included a few video recordings of absent friends and family, but the best was a recording by her son. There is a family legend (often told by Krystyna) that she is descended from a red Indian of Buffalo Bill's travelling circus, back in the day. So I suggested that her son played into that. (See the video)
It was a fantastic show and experience for us all. It ended with a beautiful and hilarious rewrite of the Beatles' song 'When I'm 64' performed by a very talented friend I coaxed into taking part.